We are a hybrid resort in the South of Argentina that offers tourist services and real estate developments for you to enjoy your holidays or a southern life. Our main objective is to delight you with natural landscapes and to make you feel free to enjoy yourself all year round.
VILLA HUAPI
PATAGONIA RESORT SERVICES
It offers views of the Nahuel Huapi Lake and sustainable accommodation with regional Andean design. We have safety and hygiene protocols certified by Travels Safe. It is located 20 minutes from the city of Bariloche, 7 minutes from the International Airport, 40 minutes from Cerro Catedral, and it has immediate access to the main tourist roads RN 40, which goes to the Ruta de los Lagos, El Bolsón, Villa La Angostura, to the international crossing to Chile and to the road RN 23 to the Atlantic Coast.
Restaurant
Swimming pool
Cleaning service with additional cost
Underfloor heating
Free outdoor parking
Tourist information service
Luggage storage
Exit to the beach
24 hours in/out control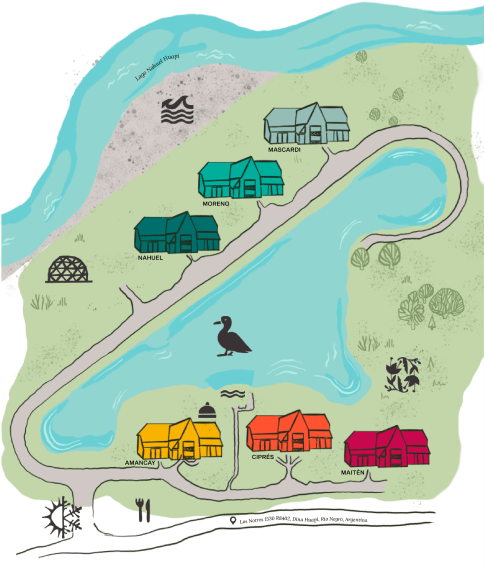 Patagonia
Resort Services
We offer you landscapes facing the lagoon, the gardens and the lake.
LAGOON AREA
Have a look at the variety of flats in the lagoon area.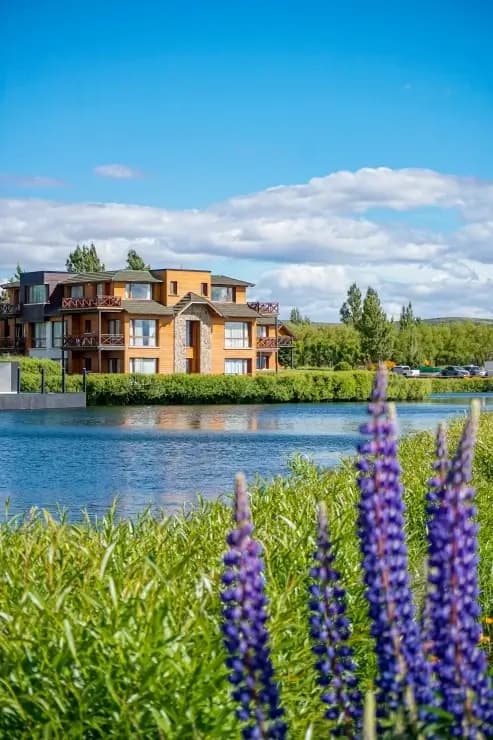 LOS NOTROS
REAL ESTATE
Life quality in a unique environment full of possibilities where you can live, enjoy fishing, winter sports and nautical activities. High Rent in a consolidated development in the national and international tourist market with presence in all marketing channels. Flats with incredible views and spacious interiors. Central hot water services and underfloor heating
Real
Estate
Finished flats for sale. It is a unique place on the lake coast, it is residential and touristic
Real
Estate
It is a magnificent environment. It has its own lagoon, it faces the Cordillera de los Andes and it joins the Patagonian steppe and the river
ACTIVITIES
WHAT TO DO IN DINA HUAPI?
The name 'Dina Huapi' means 'Danish Island' and combines two voices: one, the abbreviation for Denmark, Dina, after the Danish founders of the dairy farm that gave origin to the town; the other one is Mapuche, Huapi or 'island', since the Limay and Ñirihuau rivers enclose it against the Nahuel Huapi Lake like an island. It is located on the southeastern bank of the eastern end of the Nahuel Huapi Lake, immediately on the South of the source of the Limay River, the natural limit of Río Negro with the Province of Neuquén, on National Route 40, 15 km from the centre of San Carlos de Bariloche, forming part of the Conurbano Barilochense.
Limay River
Kayaking and rafting
Trekking
Bariloche City
Otto Cable Car
Cerro Campanario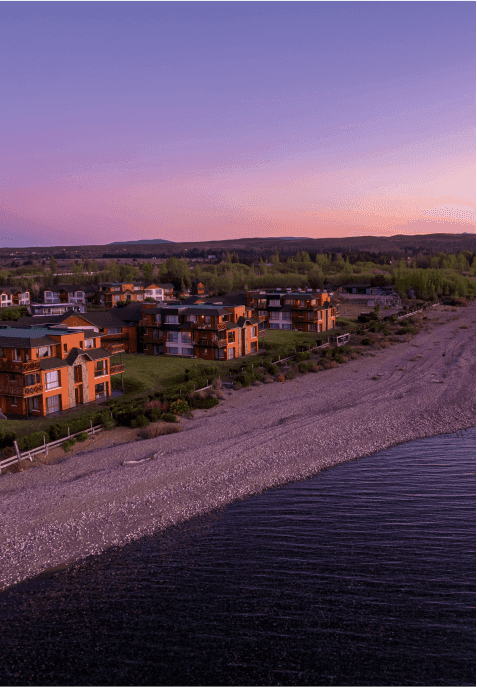 Dina
Huapi
We offer you activities for the whole year, for families, couples or groups, considering the specific experience you are willing to have